GPG Seafood prides itself on offering high quality fish, that reflects the purity of Icelandic nature.
All raw material originates in the Atlantic Ocean around Iceland.
GPG Seafood operates their own long liners and boats to procure seafood for the company's processing and purchases high quality Icelandic seafood at fish markets.
SALTED PRODUCTS - HÚSAVÍK
GPG Seafood's salted fish processing plant in Húsavík is processing traditional wet salted fish that goes to Spain, Italy, and Greece (SPIG) or Portugal (PORT).
At the same time, by-products are being processed for example tounges and loins (from backbone).
SALTED PRODUCTS - BAKKAFJÖRÐUR
GPG Seafood's salted fish processing plant in Bakkafjörður is mostly processing salted fish fillets that are exported to Spain and Italy.
FROZEN PRODUCTS - RAUFARHÖFN
At Raufarhöfn, GPG Seafood produces light salted frozen cod fillets and frozen cod roe and by-products when appropriate, e.g., lumpfish roe and masago.
The light salted cod is a salted fish that is ready for consumption without dehydration, it is made from first class fresh ingredients provided by the company's fleet.
The product is exported mostly to Spain.
GPG Seafood also produces high quality cod roe for the European market.
GPG Seafood specializes in drying high-quality fish for direct export to the Nigerian market.
Most of the heads and ridges are dried (cod and haddock), but also dried chops from saithe, cone, ling and blue whiting.
GPG SEAFOOD RESPONSIBILITY
MARINE STEWARDSHIP COUNCIL CERTIFICATION (MSC)
GPG Seafood has achieved MSC certification for fishing and processing. The science based MSC standard for sustainable fishing is the world's most extensive and respected standard for sustainable fishing.
Further information about MSC can be found at msc.org msc.org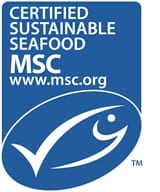 ICELAND RESPONSIBLE FISHERIES
Iceland is committed to fishing responsibly, in harmony with the environment. Icelandic fishing methods have been recognized as responsible by the Food and Agricultural Organization of the United Nations (FAO).
Further information about Iceland's responsible fishing program can be found at responsiblefisheries.is